Michelle Chant is passionate about her Coaching practice where she helps burnt-out executives who have lost themselves to rediscover the passion for their lives.
Michelle Chant
Soul Coach & Wellness Practitioner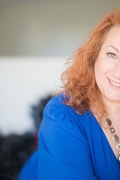 With a rich and varied background in the healing arts, marketing, public speaking and writing, Michelle is certified as a Soul Coach, Past Life Coach, and Gateway Dreaming Coach. She is also a Reiki and Seichim Master, Aromatic Kinesiologist and Aromatherapist. Michelle maintains a private practice in Canberra, Australia and work with clients in person and around the globe through Skype.
The AuthenticallyYou Co HQ
Unit 5, 11 Togo Place, Gordon
0402 504 788
Monday

Tuesday

Wednesday

Thursday

Friday

Saturday

10:00am - 5:00pm

10:00am - 5:00pm

10:00am - 5:00pm

10:00am - 6:00pm

10:00am - 4:00pm

10:00am - 1:00pm